 HANDCRAFTED ICELANDIC KNIVES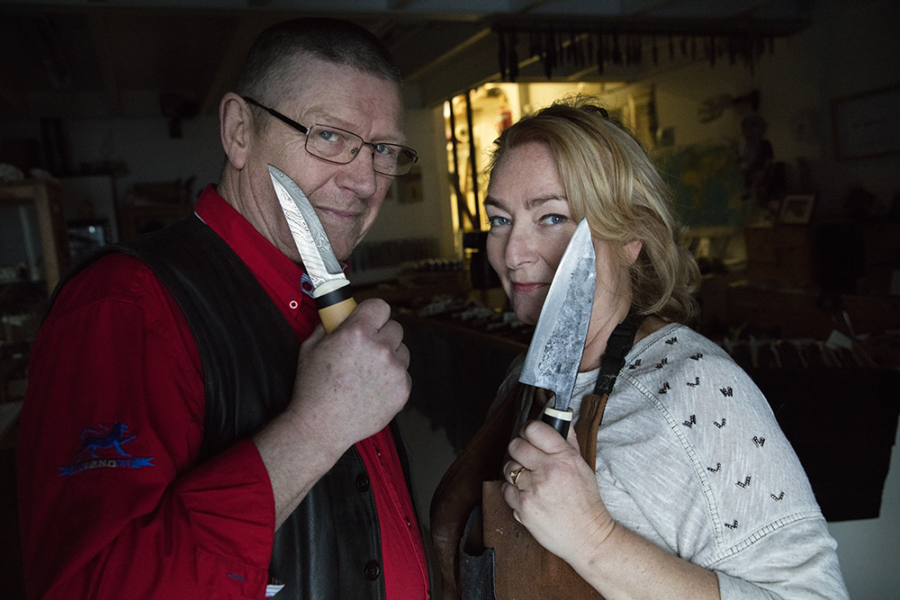 THE FINE ART OF KNIFEMAKING
Master craftsman Knifemaker Palli Kristjánsson and Kitchen knifemaker Soffia Sigurðardóttir work hard in the Knifemaker atelier, where they create an array of Icelandic knives for collectors, chefs, and all those who appreciate the workmanship behind a finely crafted tool.
Palli Kristjánsson is carrying on an ancient Icelandic tradition. Using only materials that were available in the Viking Age, he brings them into today's modern times in a new and highly artistic way. With his unique approach to knife making he creates decorated knives that evoke the feral surroundings of his native land and the Viking Age of his forefathers.
Soffia gains a lot of inspiration for her kitchen knives from Icelandic nature, as endless walks with Nóra her dog give her ideas for new creations. Soffia started making kitchen knives as a hobby but has since made it her full time career. She specializes in high quality, Damascus steel kitchen knives, which when properly cared for will last a lifetime.
KNIFEMAKER REPURPOSES ICELANDIC MATERIALS
Recycling and waste minimisation is very important to us, using sustainable and discarded material is an indispensable part of our work. seeking out slaughterhouses willing to repurpose disposable material as part of knifehandles we encourage micro-sustainable solutions for abattoirs. Instead of having the remains of the animals disposed of in landfills, the horse hooves, sheep horns and various animals bones are transformed into beautiful knifehandles.
ICELANDIC ARTISANS AT WORK
Traditional material is used to create beautifully carved Icelandic knives – material like birch, rowan, whale teeth, horse hooves, reindeer antlers, sheep horns and even lignite can be found in the Knifemaker handles. The knife blades are either hand-made copies of Iron Age or Viking Age designs, with some blades  decorated with finely etched designs. They are made out of Damascus steel or stainless steel from Denmark, Germany or Sweden.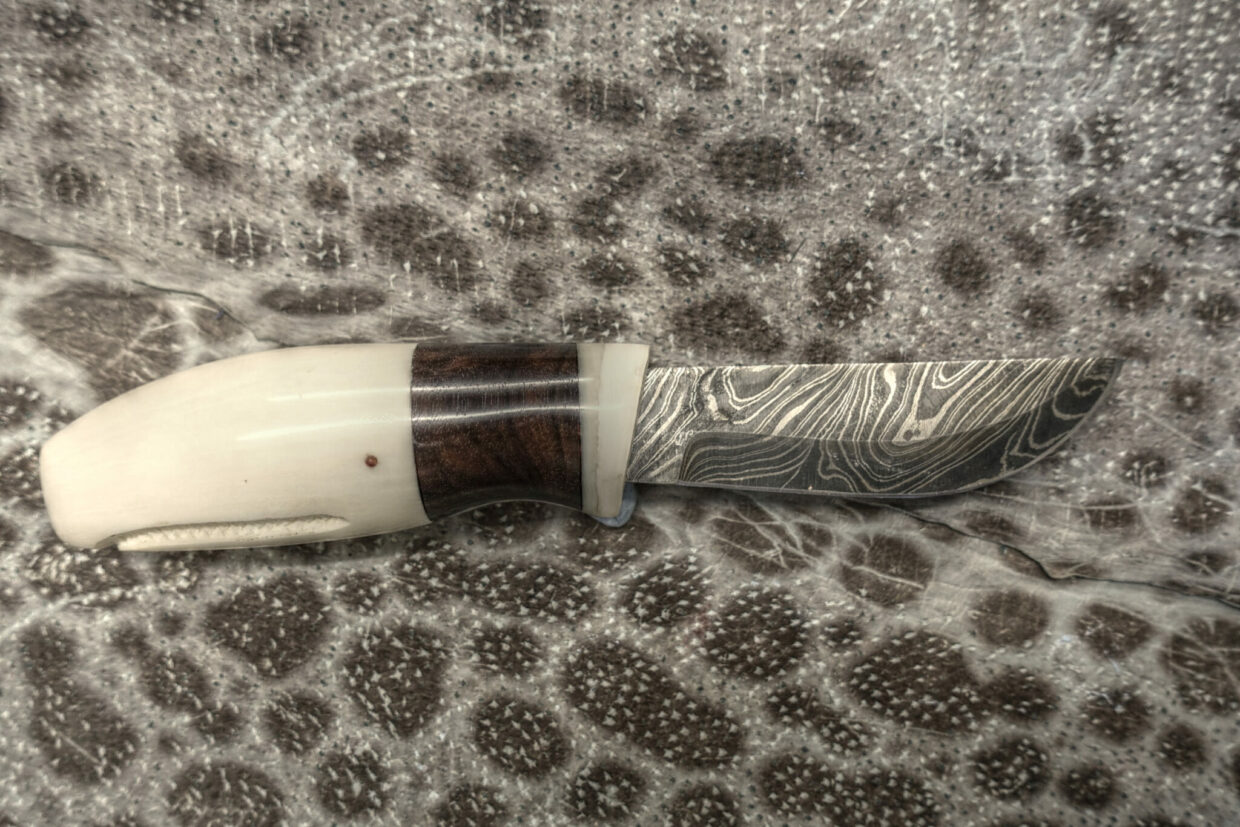 FOLLOW KNIFEMAKER ON INSTAGRAM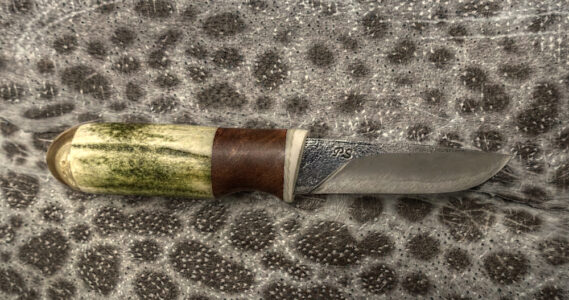 THE KNIFEMAKER OF ICELAND
As a pioneer, Palli is creating a knife making tradition in Iceland. his work is popular among collectors all over the world that seek out his highly distinctive creations. Kristjánsson wanders the highlands and lowlands of his beloved country collecting suitable materials for his labours of love. The sheaths he fashions for the knives are no less evocative. Using cow, seal and fish leather, Kristjánsson creates a fitting sheath. Often the sheaths, like the handles are intricately patterned with Viking symbols and carvings. No two knives and sheaths are the same. When you own a Kristjánsson knife, you can be sure that it's a unique handmade knife.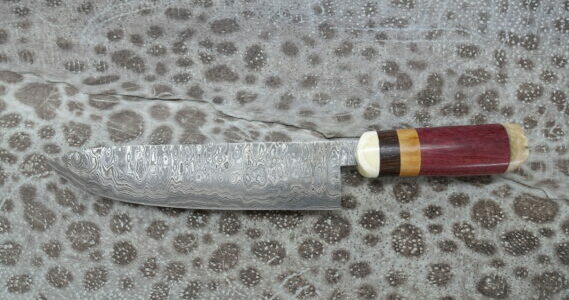 A WOMAN'S TOUCH
For her part, Soffia, who has worked under Palli's tutelage for several years, has created a line of beautiful professional kitchen knives and her own collection of steak knives and forks which are gaining in popularity. Blades for these knives come in various shapes and sizes (Japanese style, Damascus steel or high carbon steel) and the finely balanced handles make them a joy to use in the kitchen. Chefs, culinary schools and cooking enthusiasts tend to love to show off these one of a kind handmade kitchen tools that have become something of a coveted souvenir from Iceland.
CUSTOM MADE FOR LIFETIME USE
Do you have your own design ideas or material that you would like to use, Palli the knife maker and Soffia the kitchen knife maker are happy to work with you to produce a custom made knife, according to your own specifications. You can also take a look at their collections of sold knives to get an idea of what kind of a knife you would prefer to have custom made. On the other hand every knife is one of a kind, and no two knives look the same.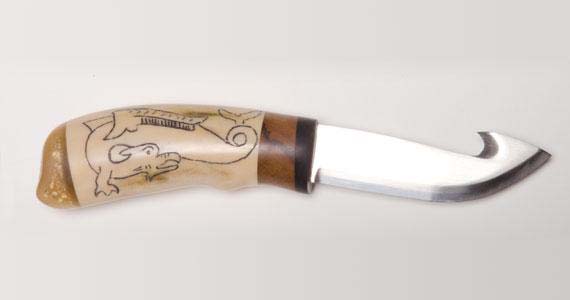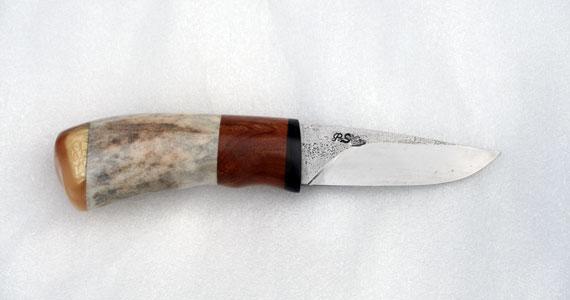 Walk-ins are welcome at the Knifemaker atelier in Álafosskvos but please call ahead to make sure we have someone on site.
Only 15 minutes drive from Reykjavík. Please call if you would like to book a visit, tel: 899 6903
How the Icelandic Knives are Made
Through the Ages, the agrarian, hunter culture of the Scandinavians saw just about every last man carry a knife or dagger in a sheath on a belt. Whether they were tending their land, foraging or hunting for food, or setting out on epic Viking voyages of discovery, the blade played a significant role in their existence.
PALLI THE KNIFEMAKER IN THE NEWS